EFOIL
Learn to fly above water
To sum up
Duration : 1 hour
Theme : Nautical activity
Age : From 14 years old
Teams : To practice alone or in groups of 3 people maximum
Good to know
Open on request from May 18 to July 3, then non-stop until August 30.
For technical reasons, tall guys over 90kg will not be able to board the eFoil.
Please arrive 15 minutes at the Beach Club before the start time of your activity.
A departure is guaranteed for a minimum of 2 e-foil reserved. Your departure time may be slightly adjusted if this condition is not effective, in which case we will contact you directly.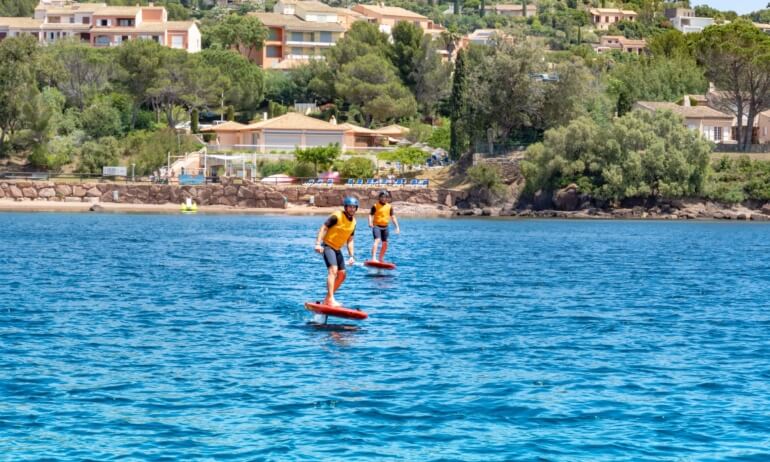 Presentation
INEDIT !!! Learn to fly above water thanks to our novelty: the e-Foil!
Learn about electric surfing with the eFoil Takuma and discover Agay Bay in an unusual and unprecedented way. Fly over the waves aboard your craft.
Between feeling of freedom and adrenaline, happiness is guaranteed! This new nautical activity allows you to combine new technology and respect for the environment, while entertaining you.
Slide sports enthusiasts or beginners the e-Foil is accessible to all levels! Easily learn the basic techniques to handle this new generation surf after the 30-minute briefing by a qualified supervisor.
Are you curious? So don't wait any longer and live this unique experience with us off the coast of Saint Raphaël!
For this activity you will benefit from a briefing before going to sea and the presence of a supervisor (in zodiac) throughout the practice of the activity. this boat supervision allows you to be as close as possible to the practitioners in order to provide them with personalized advice that will allow everyone to live their E-foil experience at best.
Departures are provided with a minimum of 2 e-foil.
Weather conditions may force us to cancel or postpone your efoil session to ensure a safe activity.
Recommended equipment
Swimmer

Water bottle

Swimsuit

Bath towel

Water Shoes
Know how to swim, water bottle, swimsuit, towel. Possibly water slippers.
We provide the helmet, wetsuit and life jacket necessary for the practice of this activity.
110 €
(for 1h, briefing included)
Your reservation will be confirmed within a maximum of 24 hours.
Until then, it is in OPTION status.