AGAY EXPRESS
TREASURE HUNT – IN SEARCH OF THE MYSTERY CODE
To sum up
Duration : 3h
Theme : Sports track game, orienteering type, multi-activity
Age : From 12 years old
Teams : from 2 pers. to 6 pers.
Good to know
The race is played in teams of 2 to 6 people, 4 teams maximum.
Each Agay Express event takes place in total autonomy, either on foot, by kayak, or by mountain bike.
Each team will be given a backpack including everything needed to succeed in your race against the clock.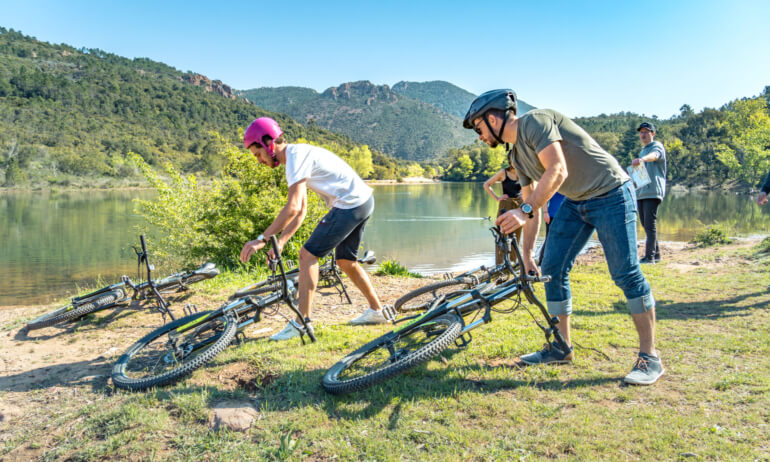 Presentation
You have come to the right place if you are looking for a unique, sportive and stimulating activity!
This 3-hour outdoor escape game is a timed treasure hunt that will definitely give you an adrenaline rush!
Before leaving, Estérel Aventures gives you a backpack containing a compass, a road guide, and a stopwatch. The briefing done on an iPad, grabs your attention from the start.
Once the clock starts ticking, get on your mountain bike and start looking for clues. The adventure starts along the shoreline path, to the landing beach in Le Dramont. You will also kayak down a river looking for more clues.
As soon as all the clues have been found, you can solve the mystery by entering your answer in the iPad. Remember the clock is ticking!
If you are looking for excitement, this is it! An average fitness level is required. You can experience the Agay Express as a couple, with friends or with your family.
Recommended equipment
Know how to swim

Water

Sneakers

Swimsuit

Towel
Know how to swim. Bring water bottles, sneakers, swimsuits and towels in season.
Where to find us ?
964 Boulevard de la 36ème division du Texas Saint-Raphael
Your reservation will be confirmed within a maximum of 24 hours.
Until then, it is in OPTION status.