Organizing a Bachelor / Bachelorette party?
BACHELOR / BACHELORETTE PARTIES
If you are looking for an original bachelor / bachelorette party, we have many entertaining suggestions. We will help you organize this event, whether it is all day or for a few hours, so it is remembered by everyone: bridesmaids, friends, family…
Estérel Aventures offers customized activities so that the bride / groom and their guests remember this memorable celebration.
For a half-day bachelor/bachelorette party, try a buggy ride or an outdoor adventure game.  Or combine the two for a full day of excitement and change of scenery.
You can also combine a buggy ride with a sea adventure activity including Stand Up Paddles or a giant inflatable canoe. Regardless of your personality, Esterel Aventures has an activity that will perfectly match it.
Ideally located in the Dramont, close to the beach, Estérel Aventures can even recommend restaurants close by that will organize a picnic to spice up your day.
Do not hesitate to contact Our Happiness Manager for assistance in organizing your ideal bachelor / bachelorette party.
If you have to organize it on short notice, don't panic! Our Happiness Manager can always come up with a last-minute solution for you.The icing on the cake, the future groom is invited from 7 paying people!
How to organize a bachelor/ette party ?
Select your guests.
Decide on a date everyone agrees on.
Choose a destination.
Agree on a budget.
Choose your activities, depending on the bride / groom's personality and everyone else's tastes.
Plan your bachelor / bachelorette day or weekend according to the activities you have selected.
Remember to book in advance to avoid surprises.
Take plenty of pictures!
Share the bill free of charge with our great app for easy organization!
Create your photo album or video so you can share your memories.
The key ingredients to organizing a perfect party are: a tight-knit group, unique and entertaining activities, and expert organization so that you can make the most of this special day.
Add more fun to your holiday or getaway weekend with full-day packages.
You'll see that if one activity is good, two activities are better!!
If you plan to spend a full day in Saint-Raphael, we suggest the following packages
Combine a buggy ride with one of our rallies:
Based on 2 people*
74 €
per person*
Book your buggy ride for a great discovery of the Estérel.
Ride can be privatized on the basis of 6 or 10 buggies.
The future groom is invited from 7 people. paying!
Half day of fun
Buggy tour
96 €
90 €
per person*
A full day of fun combining discovery of the Esterel with buggy and an adventure game of your choice combining fun and playful activity with a final objective!
The future groom is invited from 7 people. paying!
Combo Investigation
Buggy tour + Rallye Investigation
113 €
99 €
per person*
To experience a day full of emotions and sport, combine a buggy discovery of Estérel and a race against time!
The future groom is invited from 7 people. paying!
Combo Adventure
Buggy tour + Agay Express
89 €
84 €
per person*
Nautic activity :
Paddle
The dream of discovering our magnificent Estérel Massif in land and on the water, as close as possible to coves.
The future groom is invited from 7 people. paying!
Combo Land and Sea
Buggy tour + Paddle 1h
GIANT CANOE OR MAXI PADDLE
How to enjoy the seaside in a group?
For bachelor parties or even with family or friends, go with a maxi paddle or a giant canoe to have fun together! A moment of conviviality and fun awaits you!
We all know the proverb: the merrier we are, the more we laugh, paddle boarding is great so imagine you all on this one!! Fun guaranteed !!
What better way to test your cohesion and your team spirit than to set off together in a canoe? Will you be able to coordinate in order to dominate the waves of the Mediterranean like spartans?
Ideal for 5 to 8 people in paddle and 6 to 10 people in canoe.
Booking Maxi Paddle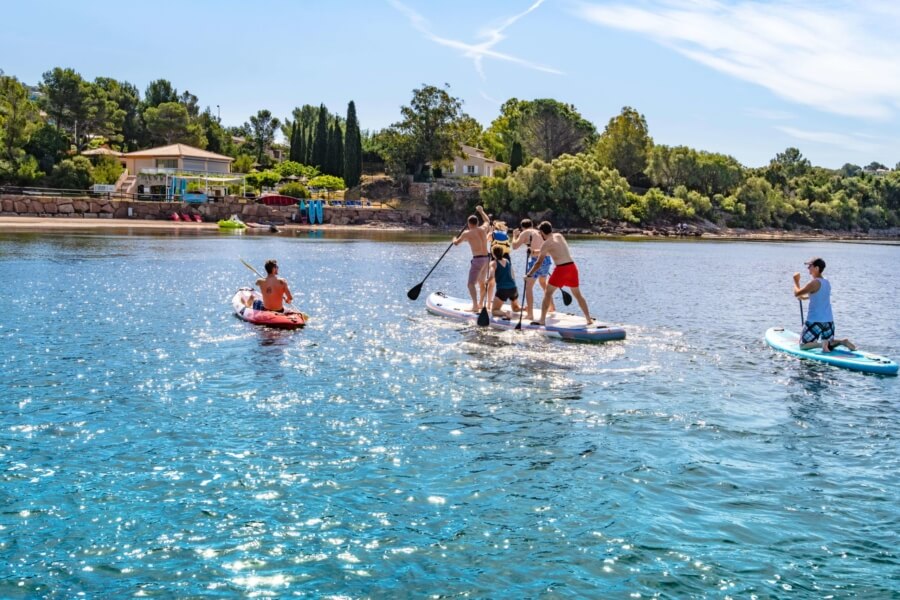 Booking Giant Canoe