CHOOSE OUR PROGRAMS BY CITY

Our city programs offer great destinations and thrilling activities in some of the world renowned cities in the South of France. If you are looking for inspiration, check out our city programs to find activities that will combine leisure and the type of entertainment that best suits your requirements. Our listings by city offer many options to choose from!

In selecting the right activities, our experience comes in handy. During the 15 years we have been traveling the region to organize memorable events for our clients, not only have we discovered our own little corners of paradise but we can help you optimize your experience for your group size, time allowances, and your budget.

Let yourself be guided through the page or select your city:
TEAM BUILDING INCENTIVE VAR
The Var region offers some very special destinations for team building events. You will be impressed by the many marvels, including lush vineyards, ancient ruins, medieval villages, dramatic coastline, and breathtaking landscapes. It's a territory where nature reigns supreme.
Team Building in St Raphaël -Fréjus
ENJOY THE MOST BEAUTIFUL BEACHES OF THE COTE D'AZUR BY ORGANIZING YOUR NEXT CORPORATE EVENT IN SAINT-RAPHAËL - FREJUS
This is where Estérel Aventures and its Headquarters were born 10 years ago! Because there are so many possibilities, we had to narrow them down to our Top 10 best entertainment activities in Saint Raphaël-Fréjus.
Before getting started, let's talk a little about the area's many attributes. Saint Raphaël-Fréjus are twin cities plus their surrounding areas, both hidden gems with casual local appeal and it is a 100% nature oriented destination for your seminars. Saint Raphaël-Fréjus offers a splendid setting between land and sea including some of the most beautiful beaches on the French Riviera. Located between Cannes and St Tropez, just a few kilometers from the Massif de l'Estérel, Saint Raphaël-Fréjus is accessible both in terms of budget and transport: the TGV train station is located in the center of Saint Raphael. The Nice airport is only a 45 minute drive away. Whatever you are looking for Saint Raphaël – Fréjus will not disappoint you!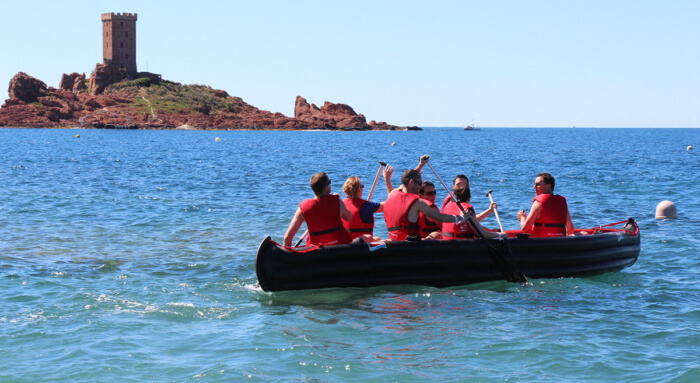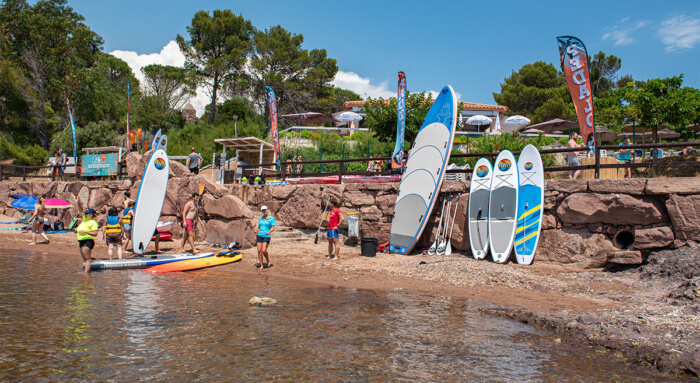 Our buggy rides are undoubtedly our most popular ctivity. This motorized discovery program is organized as a guided tour and includes sightseeing and tasting stopovers. Our itineraries take you to the foot of the Massif de l'Estérel and along the legendary Corniche d'Or road.

.

Our exquisite beaches, provide the perfect location to organize our entertaining and challenging "Island adventure". This outdoor team building activity is great for groups ready to take on fun challenges accessible to all.

If you really want to practice sport and get out of your comfort zone, chose our "Raid Estéo" program. This athletic team building event takes place in the heart of the Estérel region and combines mountain biking, trail orienteering and running, as well as an orienteering course by kayak and a via cordata challenge – all in locations offering breathtaking views.

If you are looking for a relaxing activity on the French Rivieria, Estérel Aventures can organize a Beach Party! Located in one of the best spots on the Mediterranean, Saint-Raphaël offers a wide range of fantastic aquatic activities. We will gladly welcome you at our Beach Club or on the historically famous Landing Beach for a team building challenge centered on outdoor activities in and out of the water.

Between Land and Sea. Nestled next to the Estérel Massif and the Mediterranean Sea, Saint Raphael is the ideal spot to combine land and water activities.  You can choose from an awesome buggy ride in the Estérel, a mini moke rally on the Corniche d'Or, or a nautical escape in giant canoes or zodiacs. Whatever you choose, your participants will be treated to magnificent panoramas they will not soon forget. An ideal program to reward your team or retain your customers!

If you dream of an event at sea, why not choose our Cardboard boat race?  Teams will build a boat with odds and ends to get to an island. Everyone will have a mission within the group, and they'll strategize together! The final is the mini-regatta where laughs and excitement are guaranteed.

For teams who want to experience a unique adventure, the Running Dead is our escape game- obstacle course, where your opponents will be terrifying zombies! Need we say more?

We also offer a variety of options for your Family Day or Staff Day event. With the aim of bringing together employees and their respective family, we can reserve any kind of venue and combine catering options to entertain everyone.

Saint Raphaël-Fréjus also offers indoor venues for festive gatherings after a day's work. Try a lively corporate party with our All on Stage TV Reality Evening Event program, where guest participate in dancing, singing, or even miming!

Organize your next cocktail party or product launch event with a Giant foosball tournament! Or genuine Bonzini foosball measures 8 meters, long enough for 2 teams of 11 players to compete!
Team building events in Saint Tropez and Sainte Maxime
Famous for its glamour and sophistication, Saint Tropez remains a quaint village with plenty of surprises to make you seminar event memorable. Because it is an out-of-the-ordinary destination, our team building and incentive programs are designed to match the dual identity of this mythical place: luxury and authenticity.
Your team building event can also be organized in Sainte Maxime. Situated only 15 minutes from Saint Tropez, this seaside resort is famous for its relaxed Provençale atmosphere. A great location to organize unforgettable business seminars in the Gulf of St Tropez!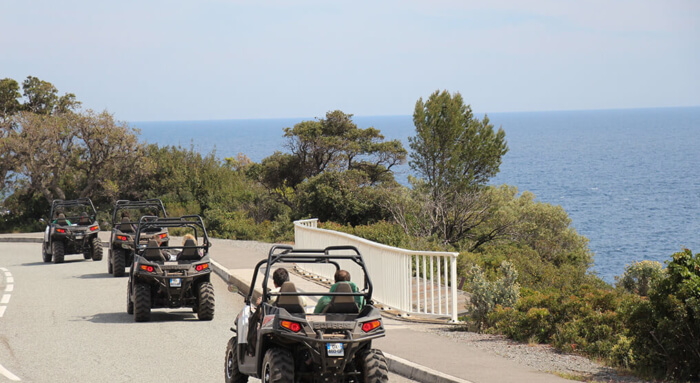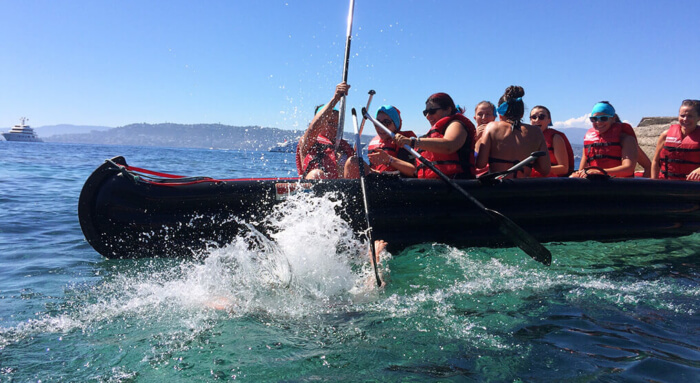 An entertaining way to discover Saint Tropez is through our Sherlock 2.0 program. Not only will the participants discover the village by following unusual anecdotes, they will also lead a themed police investigation that will keep them intrigued.

If you want to get a taste of a sizzling Saint Tropez night, why not ask us to organize an "apero petanque" event at the Place des Lices, the café-lined public plaza in the heart of the village?

Departing from Saint Tropez or Sainte Maxime, or buggy ride and mini moke rally itineraries will take you off the beaten path to visit wineries and their underground cellars. Let our team guide you through the countryside to view breathtaking panoramas like the Cap Taillat where wine tasting and open-air-picnic options can be arranged.

You can also add a water activity to your buggy ride regardless if there are 30 or 50 participants. Our Land & Sea program is your best bet.  Our itinerary in the Golfe de Saint Tropez will take you to world renowned typical villages like Port Grimaud, Grimaud, R            amatuelle, Gassin and the unforgettable Cap Taillat.

If you opt for a discovery of our region, we recommend our Vino Vidi Vici escape game which can be organized in a renowned winery. You can also choose from our O Prouvenço program so your guests can create their own Provençal gift box and leave with their own traditional creations.
Team Building Toulon / Hyères
Located less than 2 hours from Paris by plane or from Marseille or Nice by car, the harbor of Toulon, the city of Hyères, with its neighboring group of islands, and the Bay of Bandol are 3 ideal spots, to organize a one-of-a-kind event. The varied landscape boasts fine sandy beaches, dramatic cliffs and unspoiled coves that will surely enchant you.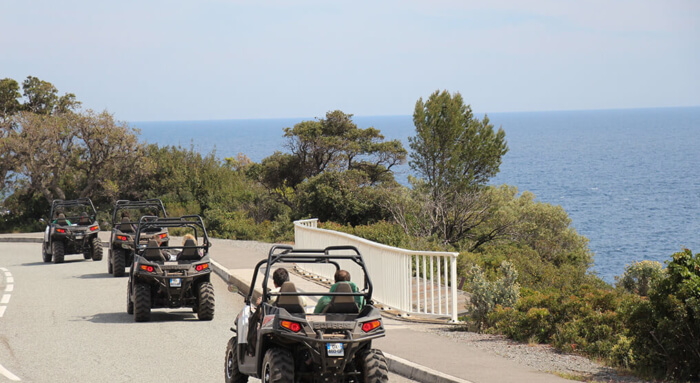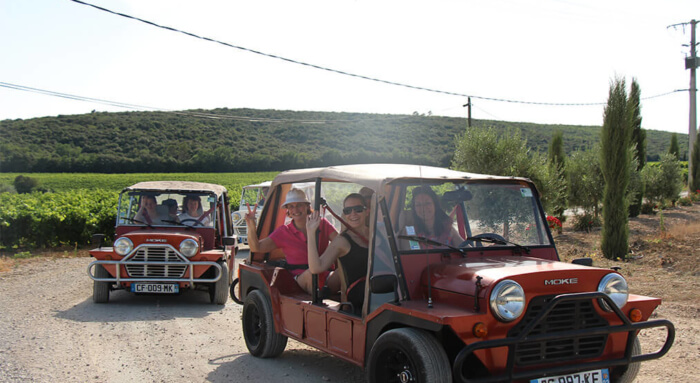 Experience nature at its best and a top-notch seaside destination with a Beach Party offering a wide range of activities. Stand –Up paddle, kayaking, canoeing and beach volleyball among many other options available. A can't-miss destination for an entertaining day on the Mediterranean.

On our Adventure Island program — on the pristine island of Porquerolles or the scenic and varied Presqu'ile de Giens peninsula — nature and sport enthusiasts will have plenty to amuse themselves with as they meet a series of challenges. Unravel our tribal puzzle, and tease your brain with our memory games!

Enjoy the Southern art of living at one of the local wine estates with our O Prouvenço program. Highlights include wine tastings, local food and traditional soap making workshops, along with many other activities designed to give you a taste of our local traditions.

If you are looking for an activity to re-energize your team, our 2.0 Escape Game is just what you need! To save mankind, your collaborators must share information, think fast, and be highly organized. It is an exciting exercise in group synergy!

Why not collaborate in building the City of Tomorrow! This Corporate Social Responsibility program can take place indoors or outdoors and gives participants the opportunity to reflect meaningfully on our environment and the prospects for the future.

Non loin du site où se tient le Grand Prix de France, nous vous proposons le programme Les carrioles, un grand prix F1 aux connotations sudistes 😉 , un team building construction intéressant dont l'objectif est de fabriquer une voiture en carton.

Last but not least, our Mini Moke Rally program. This is the most unique way to discover the diversity of the landscape in a full or half day event that alternates sea views, and countryside panoramas as you wind through vineyards and picturesque villages.

.
PROGRAMS ON THE COTE D'AZUR
IF YOU ARE ORGANIZING YOUR NEXT CORPORATE EVENT IN MONACO, ESTEREL AVENTURES RECOMMENDS ITS 5 MUST-DO PROGRAMS!
With its famous casino and its Royal Rock, Monaco remains one of the favorite destinations for glamorous corporate events! Our team will be delighted to guide you through the Principality so you can discover its rich history and exquisite charm.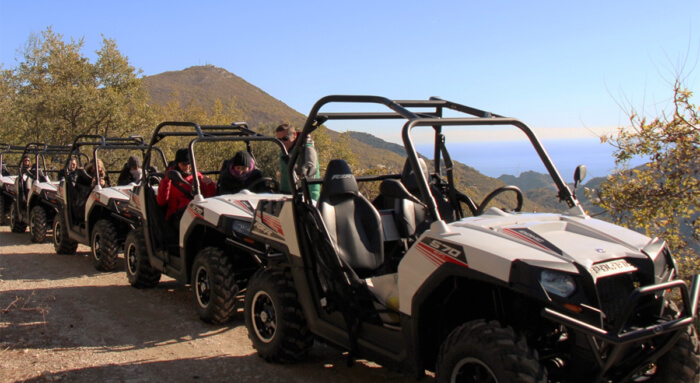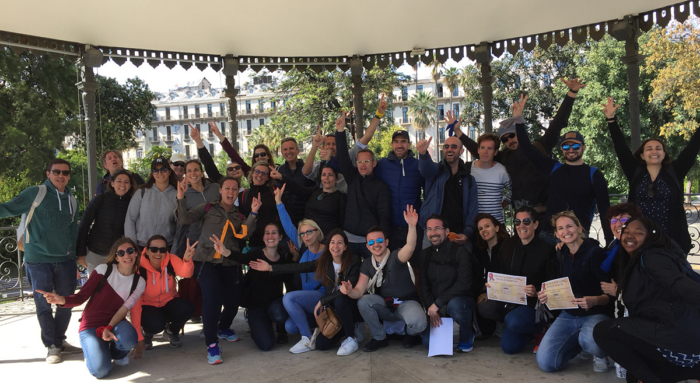 Our Sherlock 2.0 program is the best way to explore Monaco and its many landmarks in an entertaining way. Our thematic scenario "Kidnapping at Le Bal de la Rose", is organized around a series of puzzles and clues to solve and is specifically tailored to this Monegasque visit in which you will discover the city's must-sees: the famous Place du Casino, the Port, the starting grid of the Monaco Grand Prix, and the dramatic Rocher.

If you would like to discover the traditional cuisine and savoir-faire, offer your employees our O Prouvenço programs featuring tailor-made workshops that will tease their senses. Our Perfume or Lavender workshops and our food tasting activities will provide entertainment and local discovery, made all the more memorable in the elegant setting of Monaco.

Starting in the back country, a buggy ride in the heights or Monaco, are ideal for nature lovers and those who enjoy motorized activities. This ride offers a magical 360 degree panorama of the Italian border and the Principality of Monaco. A brand new program for your team building activities in Monaco.

If what you are looking for a team building activity that reinforces cohesion between your teams, The Challenges of the Crown program is one of our best options. The theme will match the venue chosen and the participants' spirit of conquest. It takes place near Monaco or at the location of your event. Our second option is The City of Tomorrow which focuses on ecology. Your Corporate Social Responsibility commitment can be celebrated through this team building and creative challenge.

To conclude your meeting in Monaco why not select one of our unforgettable corporate evening parties! You can choose between our Eat & Quiz theme party with live music, our Murder Party Casino Night, or our Guinguette evening event. All these concepts are a perfect fit for an evening in Monaco.
HERE ARE OUR TOP 10 team building and incentive activities in Nice
A cultural crossroads for millennia that's a stone throw away from the Italian border, backed by the Alps where they plunge into the Mediterranean, "Nissa la Bella" is a dream city for a corporate event, abounding with team building opportunities. You can take advantage of its beautiful pebble beaches, its legendary "Promenade des Anglais" and its colorful, labyrinthine old town. Thanks to its international airport, Nice is easily accessible but it also encompasses authentic medieval villages like St Paul de Vence that can transport you back to another time.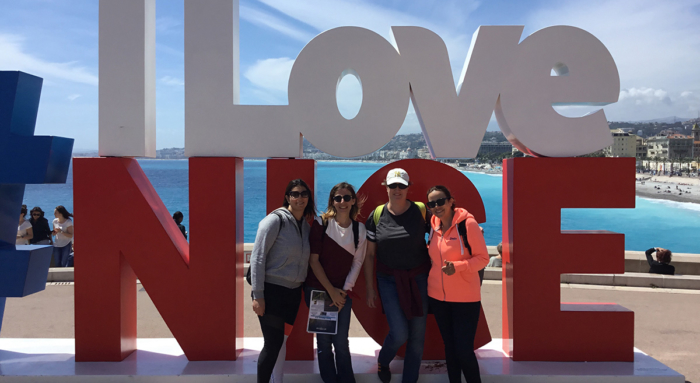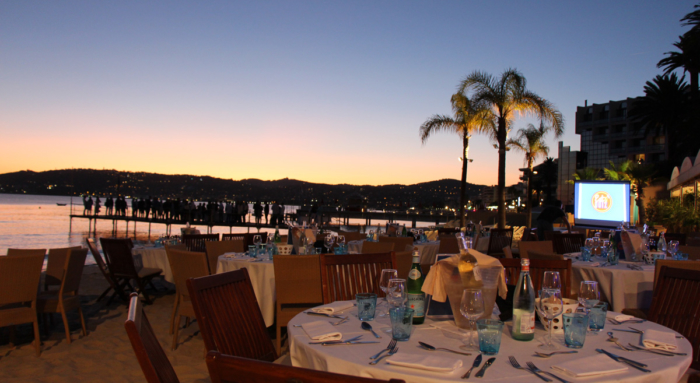 More than an investigation on a tablet, our Sherlock 2.0 program, is designed as a walking tour that takes participants from the old city to the top of the "Colline du Chateau" overlooking the famous "Promenade des Anglais" and the Mediterranean.

Our Urban Adventure program makes the most of Nice and keeps adventurous participants entertained. Equipped with road-books, teams move from stage to stage while completing fun urban challenges including a blowgun shooting contest, puzzles, a bamboo building activity on the beach. Many other activities and workshops can be added.

Our Escape Game is a collaborative team building challenge which takes place in a legendary cellar in the old city.

Our artistic team building event "Kre Art" allows the participants to express their talents in a natural and collaborative manner. Organized in the heart of the city, the participants might be as inspired as famed residents like Chagall and Matisse.

Our Pétanque Championship is ideally organized on a typical pétanque court located in a spot that offers one of the best panoramas on the mythical « Baie des Anges", where its proud local players will be delighted to initiate your collaborators. We'll turn this program into a genuine local event by serving an aperitif with some classic Niçois street snacks including olives, pissaladière – a savory onion tart, and socca – a chickpea flower crepe, enjoyed around the Mediterranean and beyond. The local theme can be expanded by adding some of our O Prouvenço workshops.

You can also decide to change atmosphere with our Crown Challenges.

Nice is a city of historic architecture where you can take advantage of the opportunity to test your teams' skills in building the ecologically sustainable City of Tomorrow. In order to achieve their goals, the participants have to make the right choices, demonstrate collaboration and integrate their structure with the surrounding environment. A great way to promote your Corporate Social Responsibility commitment

If you are looking for your group to explore the region, our Buggy Tour is the perfect option. With a fleet of ATVs, our experienced team members will offer you a variety of nature-bound itineraries in the backcountry of Nice. Included are many stops along the way to take in the exquisite panoramas.

Our Eco Nature Cocoon program focuses on nurturing and relaxing team building activities. Participants are given the opportunity to step away from their daily routine, and take care of themselves through activities including yoga, homemade cosmetics and kokedama hanging-plant workshops.

Estérel Aventures also offers you a multitude of programs for your corporate evening in Nice. They can include: an aperitif with specialties from Nice, interactive quiz games, a DJ, a photo booth, and more!
LET US ORGANIZE YOUR NEXT EVENT IN WORLD-RENOWED CÔTE D'AZUR CITY OF CANNES
World famous since 1946 for its film festival, Cannes perfectly lends itself to a business seminar. The "city of festivals" is full of monuments to visit, starting with its sumptuous palaces built at the beginning of the 20th century and just off the coast is an incredible spot for a team building day: the Lérins Islands. This archipelago located at only 15 minutes by boat offers various possibilities including the nature of Sainte Marguerite and Saint Honorat Island with its fortified monastery and restaurant.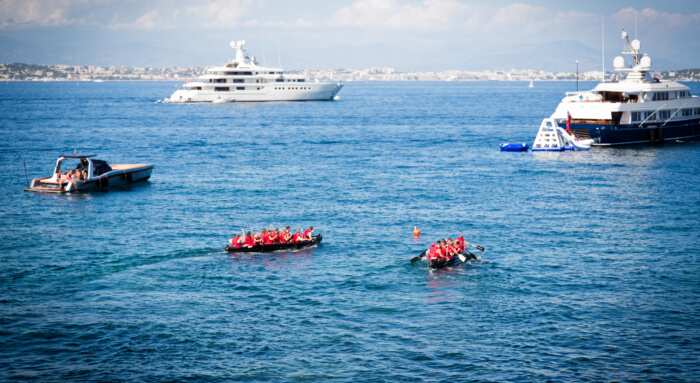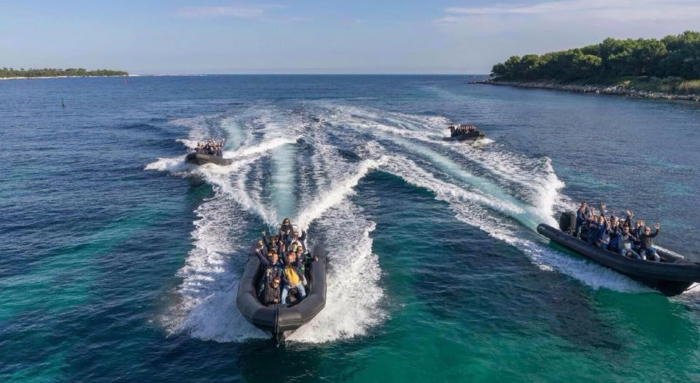 Departing from Cannes, our buggy rides provide a unique opportunity to discover the Estérel, ride along the coast, and enjoy its magnificent views.

Our Mini Moke Rally is an immersive way to discover the back country highlighted by the world famous city of Grasse and its perfume industry. Our itinerary includes several stops to learn about the local culture.

Treat your collaborators to an adventurous escapade minutes away from Cannes: Our Island Adventure program takes place on the Lerins Islands. It is perfect for enhancing cohesion, team spirit and focus. Participants are immersed in a psychological and physical adventure, through a succession of sports challenges and workshops.

As an eco-friendly destination, Cannes offers perfect sites for a CSR team building activity. This original program, consisting in a large-scale team building construction challenge called the City of Tomorrow, which focuses on collaborative reflection, environmental sensitivity, and strategic thinking as participants create a 3D model.

Our Sherlock 2.0 walking tour, based on a scenario called "Scandal at the Festival" is an immersion into the heart of the legendary cinema event. Equipped with tablets, participants discover the city on foot and complete an interactive cinema quiz, including video and photo challenges. This is a great way to supplement your team building session in Cannes.

Our Pétanque Championship is another great opportunity to indulge into the local culture. Follow the steps of many celebrities who have initiated themselves to this local sport during the Film Festival. A sure way to get a taste of the Southern French lifestyle.

If Cannes is the destination you have chosen for an evening corporate event, Estérel Aventures will be delighted to help you decide which options best fit your requirements. You can try a giant foosball contest, or our Interactive Quiz in which guests are challenged on their general knowledge, their focus and their reaction time. Excitement guaranteed!