BUGGY TOUR
Discovery of the Esterel
To sum up
Duration : 2h
Pré-requis : driving license (obtained for more than 2 year)
Age : 12 years minimum
Groupe : 6 to 20 pers.
Good to know
To benefit from buggy rental, you must:
Hold a driving license.
For passengers, be at least 12 years old.
Confirmed ride from a minimum of 3 buggies per slot (maximum 10 vehicles).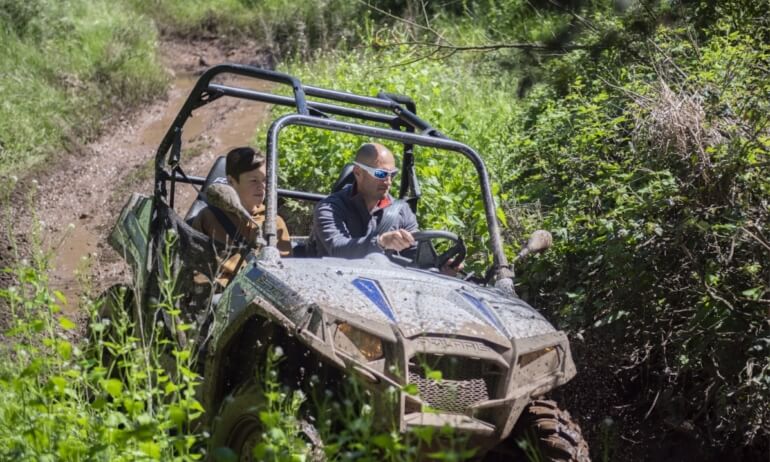 Presentation
If you are looking for a unique experience combining, pleasure, driving, discovery and excitement during your weekend or holiday, why not go for an out-of-the-ordinary buggy ride!
A buggy, also known as an ATV or All-terrain vehicle, is allowed on the road and off-road. Equipped with a full roll cage, it will give you a thrilling experience, anywhere you go. Here is why the buggy is the ideal versatile vehicle: it is both safe and very maneuverable so that you will be able to drive over any obstacle and trail in the forest while enjoying breathtaking views along the "Corniche d'Or" road.
You will be accompanied by an "Estérel Aventures" team member as you discover our exquisite coastline. The highlight of this buggy ride is the breathtaking panoramas! Do not forget your smartphones. Just like a painter's palette, our itineraries display the multiple facets of the Estérel featuring the dark red of the Estérel rocks, the shiny green of the forest and the deep blue of the Mediterranean waters.  It is an awesome live show of colors and exceptional views.
The ride starts with a briefing on our two-seat RZR POLARIS 570 buggy. It is easy to drive and can go anywhere. Our tours take you through rugged terrain including some more technical passages where you have to take your driving to the next level! The ride continues on the legendary "Corniche d'Or" road, with several stopovers to admire the bay of Agay, one of the Cote d'Azur must-see destinations.
Ready, steady, go! Do not hesitate to join us for this multi-generational outdoor-discovery activity.
Here is what differentiates our buggy rides from others: At Estérel Aventures we are proud to guide you through the exploration of one of the most exquisite places in France with our POLARIS RZR 570. Leaders in the market, our buggies combine power, suspension and agility, so they are both safe and comfortable. Equipped with cozy seats and high performance suspensions, your ride between sea and mountain will be a memorable experience. Suitable for drivers and passengers regardless of physical condition, our buggie's perfectly balanced chassis delivers superior handling and sensations on and off road. Adrenaline rush guaranteed!
Where to find us ?
964 Boulevard de la 36ème division du Texas, 83700 Saint-Raphaël, France
Based on 2 passengers by buggy (12 years old minimum)
Your reservation will be confirmed within a maximum of 24 hours.
Until then, it is in OPTION status.