COLD CASE
POLICE INVESTIGATION
To sum up
Duration : 2h
Theme : Life-size Cluedo, type of police investigation to be carried out
Age : from 11 years old
Teams : from 2 to 6 pers.
Good to know
Welcoming and Briefing is at our HQ in Dramont. Your team is given a backpack including everything needed to succeed in your challenge!
Each event takes place on foot and in total autonomy. The timing is a function of your pace.
You need an Android phone to play the game.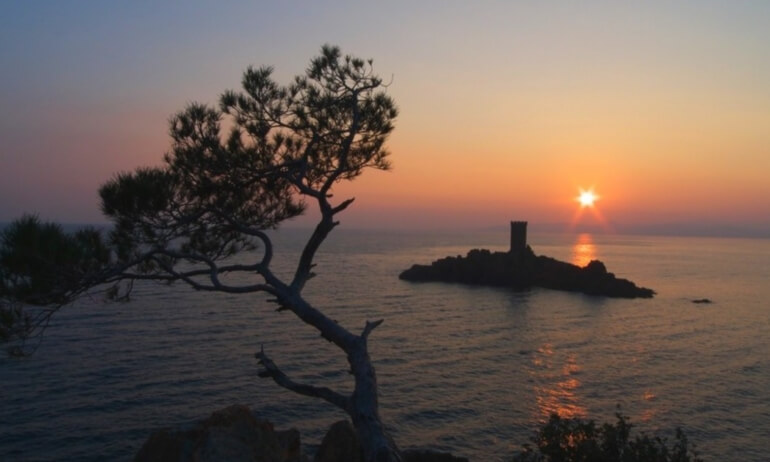 Presentation
Do you know the legend of « L'Ile d'Or »(the Golden Island)? It is a landmark visitors and locals are both fond of. The highlight of a striking panorama, the tower standing on the rock in the middle of the sea attracts sailors and nature lovers. It is not only beautiful but the tower inspired the author of "The adventures of Tintin" the beloved French comics.
Are you unbeatable at Clue? Have you ever imagined yourself leading an investigation like Hercule Poirot or Sherlock Holmes? This is your dream come true!
Your mission, if you accept, is to find out who murdered Auguste Lutaud. This gentleman really existed and your investigation happens at his doorstep, the "Ile d'Or" and the tower itself! In 1905, Lutaud actually won the island in a boozy card game. Later, in 1913, he proclaimed himself King Auguste the 1st and organized a sumptuous party to celebrate. Unfortunately no one knew what had happened on that night when Lutaud was found dead.
Was the murderer amongst the guests? Did someone want to steal his kingdom? Was it jealousy? To this day, the mystery remains, which is why you have to discover the murderer their motives, and how they pulled off the crime.
The quaint port of Le Poussaï is the departure point of this open-air escape game which continues on the Dramont landing beach in Boulouris, one of Saint Raphael's district.
Estérel Aventures will provide you with a back pack containing everything you need for this two-hour walking investigation. Trust your instinct and don't waste any time!
You can conduct this investigation solo but it will be more fun and easy if you bring friends or family. You can work your forensic skills like the investigators in NCIS, Bones and Cold Case.
Recommended equipment
Bring water bottles, swimsuits and towels in season, if you want to take a break on the beach.
Your reservation will be confirmed within a maximum of 24 hours.
Until then, it is in OPTION status.