THE 36th DIVISION
HISTORICAL RALLY – TREASURE HUNT
To sum up
Duration : 3h
Theme : Escape game outdoor
Age : from 9 years old
Team : from 2 pers to 6 pers
Good to know
Welcoming is at our HQ in Dramont. Your team is given a backpack including everything needed to succeed in your challenge! Each event takes place on foot and in total autonomy. The timing is a function of your pace.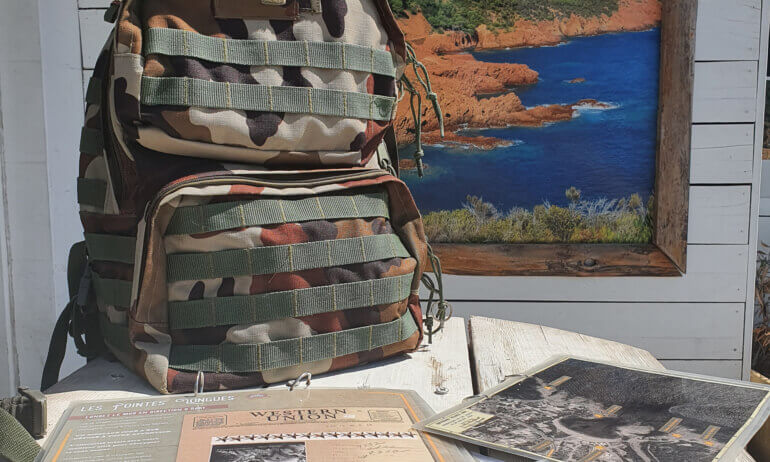 Presentation
Our Historical Rally is the perfect backdrop for a thrilling and educational activity!
Departing from the Dramont, it will take you through the WW II Provence landing strategic landmarks. This rally combines historical facts and adventure activities along our coastline.
Just like in an escape game, team spirit, logic, and cohesion are the key factors that will guarantee the success of this time travel adventure.
You will truly become historical investigators as you re-open a case dating back to WW II when the German 19th Army was holding the Provencal coastline. Your mission is to uncover the real spot where the Allies landed on August 15th 1944, the night the American forces took this strategic landmark back!
Now, back to 2020… Jack is celebrating his 21st birthday, as a present, his grandmother gives him his famous grand-father's messenger bag. Jack is ecstatic when his grandmother also hands him an envelope containing a plane ticket to Nice! When he reads the information inside, Jack understands he is sent to Saint Raphael, where his grandfather who landed on that night in1944, left a secret Jack must uncover. He needs your help, intuition and insight to find the gold his grand-father stole the Germans.
This 3-hour-investigation conducted on foot will take you to the WW II bunkers.  Equipped with your backpack, compass and ultraviolet light, you will walk in the footsteps of the GIs, ready to complete this treasure hunt! Exciting isn't?
Recommended equipment
bring bottle of water and swimsuit during summer if you want to do a break.
Where to find us ?
964 boulevard de la 36e division du Texas, 83700 Le Dramont, France
Your reservation will be confirmed within a maximum of 24 hours.
Until then, it is in OPTION status.